Theodore M. Space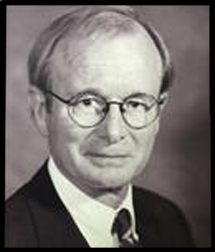 Theodore M. Space, 78, of Bloomfield, died on Friday, September 2, 2016.
Ted, as he was known to his friends and colleagues, was born and raised in Binghamton, New York, the son of Maxwell Evans Space and Dorothy Boone Space. He was a man of great integrity, whose kindness and thoughtfulness will be remembered by everyone who knew him.
Following graduation from Harvard College in 1960, where he was in the NROTC program, Ted served on active shipboard duty as a line officer in the U.S. Navy aboard the USS Northampton (CLC-1) and the USS Long Beach (CGN-9). While at Harvard he majored in English and graduated cum laude. He was a resident at Leverett House. He graduated from Yale Law School in 1966; the same year, he was admitted to the Connecticut Bar and joined the Hartford law firm of Shipman & Goodwin as an associate.
In 1971, he became a partner with the firm, and continued in that role, serving a term as Managing Partner in the 1980s, until his retirement in 2006, when he became Of Counsel. His principal areas of practice involved administrative law, with particular emphasis on regulatory issues affecting health care institutions and the dairy industry; his practice also included litigation, real estate, and intellectual property matters. He was a member of the American Bar Association, the Connecticut Bar Association (where he served for many years on the Executive Committee Administrative Law Section), and the Hartford County Bar Association. He was also a Life Member of the American Law Institute and a James W. Cooper Fellow of the Connecticut Bar Foundation.
The law was more than a profession for Ted. As one of his colleagues put it, he was a "true thinker." He served for many years as president of Swift's Inn, a 90-year-old group of lawyers, judges, and law professors that meets monthly. In his most recent talk to the group, Ted explored the relationship of law to the Declaration of Independence phrase "the pursuit of happiness," using material that ranged from classical sources to recent developments in behavioral economics.
He had a strong interest in history, and was actively involved with the Connecticut Historical Society, where he chaired the Library Committee for many years and served as Trustee from 1997-2003.
Following a family tradition of involvement in education, Ted was elected in 1973 to the Bloomfield Board of Education and served as its chairperson from 1975 to 1985. For several years, he served on the Board of Directors of the Citizens Scholarship Foundation of Bloomfield. He deeply respected the racial diversity of the town, and worked to ensure equal opportunities for all students. A personable man who was known throughout the community, he was highly regarded by Bloomfield teachers and residents alike.
Ted and his first wife had two children, born in 1967 and 1970, who attended the Bloomfield Public Schools. His children's primary caretaker for many years, he was a devoted and gentle father who took great pride in his children's and grandchildren's accomplishments. A highlight of their life as a family was an annual vacation on Cape Cod. As he said a few years ago, his "chief avocation" was reading, and the house in Bloomfield where he lived for almost fifty years was filled with books.
A firmly liberal Democrat, he took great interest in the challenges presented by the contemporary political scene. He was a member of the Unitarian Society of Hartford, for which he served a term as Council member and chair of the Finance Committee.
Ted is survived by his wife Martha Collins, a poet from Cambridge, Massachusetts, with whom he shared 25 happy years of commuting between Connecticut and Massachusetts. He is also survived by his son William Space and daughter-in-law Cheryl Space; his daughter Susanna Space and son-in-law Stephen Yadzinski; his grandchildren Aster Space, Gardner Yadzinski, and Wyatt Yadzinski; and his sister and brother-in-law Joan and Lyndon Arscott.
At Ted's request, services will be private. In lieu of flowers, the family requests that donations be made to the Connecticut Historical Society.
Published in The Hartford Courant on Sept. 8, 2016