James Gordon MacArthur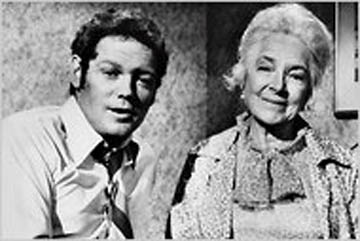 James MacArthur, "Danno," Dies at 72
James MacArthur, who played Danno, the boyish-looking but hard-driving sidekick on the long-running television detective show "Hawaii Five-O," died Thursday.
Mr. MacArthur died in Florida of natural causes, his agent, Richard Lewis, told The Associated Press.
For 11 of the 12 years that "Hawaii Five-O" first ran on CBS, Mr. MacArthur, as Detective Danny Williams chased thieves, hit men, swindlers, spies and assorted loonies. His boss was Detective Steve McGarrett, played by Jack Lord, the straitlaced, tight-lipped head of a small, elite police team determined to keep the idyllic islands from turning into a modern Wild West.
When the bad guy was captured McGarrett would tell his partner, "Book him, Danno!," which became the show's popular catchphrase.
Most of the original show's main actors are now dead. Mr. Lord died in 1998; Kam Fong, who played Chin Ho Kelly, died in 2002; and Gilbert Lani Kauhi (credited as Zulu), who played Kono Kalakaua, died in 2004.
The original "Hawaii Five-O" ran from 1968 to 1980, making it one of television's longest-running crime shows. It was seen in more than 80 countries. Mr. MacArthur left in 1979, saying that he wanted to pursue other acting challenges.
Last month, a new version of "Hawaii Five-O" made its debut on CBS.
If acting was not in Mr. MacArthur's blood, it was certainly in his upbringing.
James Gordon MacArthur was born in Los Angeles on Dec. 8, 1937. When he was seven months old he was adopted by the celebrated actress Helen Hayes and her husband, Charles MacArthur, the playwright best known as the co-author, with Ben Hecht, of "The Front Page."
"They did teach me a lot about the theater just through my life with them," Mr. MacArthur said of his parents in a 1957 interview in Teen Life magazine. Starting as a teenager in summer stock productions, he would go on to a career onstage, in more than a dozen movies and on many television shows.
Mr. MacArthur considered the real start of his acting career the 1955 television production of John Frankenheimer's "Deal a Blow," in which he played a misunderstood teenager on the verge of manhood in trouble with his parents and the law. It was remade in 1957 for the big screen as "The Young Stranger," with Mr. MacArthur reprising the role.
Reviewing it for The New York Times, Bosley Crowther wrote that Mr. MacArthur was "clean-cut and energetic," bringing "a refreshing ingenuousness and candor to the role."
Before "Hawaii Five-O," Mr. MacArthur acted in several Disney adventures, including "Kidnapped" and "Swiss Family Robinson." He had a small but significant role in the taut 1965 cold war thriller "The Bedford Incident." In the rambunctious 1967 film "The Love-Ins," Mr. MacArthur's character hung out in the Haight-Ashbury neighborhood of San Francisco and smoked banana peels.
Besides "Hawaii Five-O," Mr. MacArthur acted in many TV shows, including "Gunsmoke," "Bonanza," "The Love Boat" and "The Untouchables." But it was his appearance in the 1968 movie "Hang 'Em High," a low-budget spaghetti western starring Clint Eastwood, that prompted Leonard Freeman, the creator of "Hawaii Five-O," to cast him.
One of his favorite "Hawaii Five-O" episodes, Mr. MacArthur said, was "Retire in Sunny Hawaii Forever" (1975), because it was one of the rare times that he worked with his mother. Miss Hayes played Danno's Aunt Clara, who visits Hawaii and helps the detectives solve a murder.
Mr. MacArthur is survived by his wife of more than 25 years, Helen Beth Duntz, four children and seven grandchildren. His first two marriages - to the actress Joyce Bulifant, from 1958 to 1967, and to the actress Melody Patterson, from 1970 to 1975 - ended in divorce.
NY Times- 11/29/2010 By DENNIS HEVESI
MacArthur was a member of the Harvard Class of 1960.