George Rockwell Sprague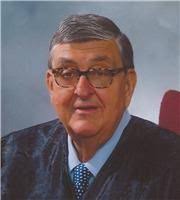 SPRAGUE, The Honorable George Rockwell of Prouts Neck, Maine and Fort Lauderdale, Florida, died peacefully on August 30, 2016 surrounded by his family after a short illness. He is survived by his wife of 52 years, Lee Thorndike Sprague, his children, Alexander T. Sprague of Castro Valley, California and Cynthia N. Sprague of Swansea, Massachusetts, his two granddaughters, Adelaide and Katelyn of California, and his sister, Sally Marvin of Concord, New Hampshire. His daughter, Lucy R. Sprague, predeceased him in 1996.
He graduated Cum Laude from Harvard College, Adams House, in 1960 and B.U. Law School in 1964. He held multiple positions in Commonwealth of Massachusetts including Director of Conservation Services in the Department of Natural Resources, elected to three terms in the Massachusetts House of Representatives 1972-78, was a Commissioner in the Department of Public Utilities, and he was appointed a Judge in the Middlesex District of the Trial Court from 1992-2008.
He served on many boards from educational institutions to Environmental and Conservation organizations. He was the author of the 1969 Wetlands Conservation Act in Massachusetts, the first such act in the nation.
Funeral services will be held in Boston at 3 p.m. on October 22nd at King's Chapel and a memorial service in Maine next summer.
Arrangements by Hobbs Funeral Home, SOUTH PORTLAND, MAINE.
In lieu of flowers, contributions may be made to: The Scarborough Land Trust, P.O. Box 1237, Scarborough, ME 04070 OR Sherborn Rural Land Foundation, P.O. Box 190, Sherborn, MA 01770.
Published in The Boston Globe on September 4, 2016