Charles W. Maynes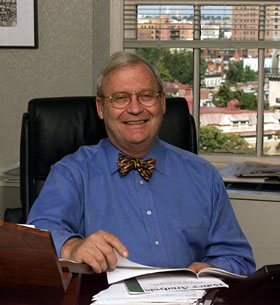 Charles W. Maynes, 68; Foreign Policy Expert at State Department
Charles William Maynes, 68, a foreign policy expert who was a senior State Department official, influential editor and president of an international development foundation, died June 2 of cancer at his home in Chevy Chase.
After serving as a Foreign Service officer, Capitol Hill aide and think-tank official, Mr. Maynes was assistant secretary of state for international organization affairs in the Carter administration. From 1980 to 1997, as editor of Foreign Policy magazine, he helped shape thinking on international affairs in academic and government circles. In his final position, as president of the Eurasia Foundation from 1997 to 2006, he directed efforts to establish economic and civic order in the former Soviet Union.
Mr. Maynes, who was known as Bill, wrote many essays for The Washington Post, New York Times and other publications and often appeared as a commentator on television and radio. He was known for his ability to discuss, at a moment's notice, foreign policy concerning any part of the world.
Some of his comments appeared eerily prescient, as in a 1998 article for The Post in which he replied to an op-ed piece by L. Paul Bremer III, who later oversaw redevelopment efforts in Iraq for the Bush administration. Bremer urged that the United States adopt a "systematic and relentless" anti-terrorism policy that would include unilateral "military strikes" and the repeal of an executive order "banning the assassination of foreigners."
"Unfortunately," Mr. Maynes wrote in response, "this approach has been tried and has failed. Israel followed such an approach against the Palestinian movement and Britain against the Irish Republican movement. . . . Among the Palestinian and Irish populations resentment grew, and support for the terrorists increased."
As assistant secretary of state from 1977 to 1980, Mr. Maynes oversaw U.S. policy toward the United Nations and helped draft agreements that led to the independence of Namibia and a peacekeeping effort in Lebanon.
During his 17 years as editor of Foreign Policy, the journal won many awards for excellence and became a leading marketplace of ideas on international relations during the transition to a post-communist world.
As president of the Eurasia Foundation, Mr. Maynes kept a lower profile, but the effect of his work may have a more lasting impact. The foundation, founded in 1992, has distributed more than $360 million to help establish democratic and economic stability in the states of the former Soviet Union.
"Bill is the person most responsible for the success of the foundation today," foundation President Horton Beebe-Center said yesterday. "Bill's stature in the American foreign policy community and as a former diplomat opened doors for the Eurasia Foundation that helped us accomplish our mission to a remarkable extent."
Charles William Maynes Jr. was born in Huron, S.D., and was drawn to public service as a sophomore at Harvard University, when he heard then-Sen. John F. Kennedy speak. After graduation, Mr. Maynes accepted a Rhodes Scholarship to Oxford University, from which he received a master's degree in politics, philosophy and economics in 1962.
Mr. Maynes was fluent in French and Russian and was "an intrepid traveler with a great curiosity about other countries," Beebe-Center said.
After nine years in the Foreign Service, Mr. Maynes joined the staff of Democratic vice presidential nominee R. Sargent Shriver in 1972. He worked on the Capitol Hill staffs of Sen. Fred R. Harris (D-Okla.) and Rep. Frank Bradford Morse (R-Mass.) and was secretary of the Carnegie Endowment for International Peace from 1972 to 1977.
In 1992, Mr. Maynes spoke against what he considered improper political practices at the State Department during the first Bush administration, including searching through the passport records of Bush's opponents in the 1992 presidential election, Bill Clinton and H. Ross Perot.
"This is the culmination of 12 years of politicizing the State Department," Mr. Maynes told the New York Times. "Career Foreign Service officers were asked to do and say things that were dubious, to say the least, things that undermined the standards and morale throughout the professional corps."
"He was guided most of all by very high principles," John O. Fox, a writer who knew Mr. Maynes for almost 50 years, said yesterday. "He was so well-respected because he was so sensible." Survivors include his wife of 42 years, Gretchen S. Maynes of Chevy Chase; two children, Charles William Maynes III of Moscow and Stacy K. Wade of Fairfax; two sisters; and two grandchildren.
By Matt Schudel Washington Post Staff Writer Thursday, June 7, 2007; Page B07