John D. Leonard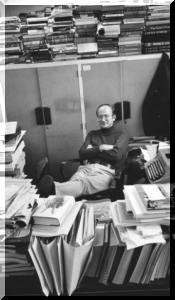 John Leonard, 69; literary critic was ahead of his time
By Hillel Italie, AP



NEW YORK - Literary and cultural critic John Leonard, an early champion of Toni Morrison, Gabriel Garcia Marquez, and many other authors, and so consumed and informed by books that Kurt Vonnegut once praised him as "the smartest man who ever lived," died Wednesday night at age 69.
His stepdaughter, Jen Nessel, said yesterday that he died at Mount Sinai Hospital of complications of lung cancer.
A former union activist and community organizer, Mr. Leonard was an emphatic liberal whose career began in the 1960s at the conservative National Review and continued at countless other publications, including The New York Times, The New Republic, The Nation, and The Atlantic Monthly. He was also a television critic for New York magazine, a columnist for Newsday, and a commentator for "CBS Sunday Morning."
Mr. Leonard had the critic's most fortunate knack of being ahead of his time. He was the first major reviewer to assess Morrison's fiction and the first major American critic to write about Marquez. As the literary director for radio station KPFA in Berkeley, Calif., Mr. Leonard featured the commentary of Pauline Kael before she became famous as a film critic for The New Yorker. Mr. Leonard was also an early advocate of Mary Gordon, Maxine Hong Kingston, and other women writers.
His good work was appreciated. When Morrison traveled to Stockholm in 1993 to collect her Nobel Prize, she brought Mr. Leonard along, "one of the most incredible experiences of his life," Mr. Leonard's stepdaughter said.
Studs Terkel, who died Oct. 31, called him "a literary critic in the noblest sense of the word, where you didn't determine whether a book was 'good or bad' but wrote with a point of view of how you should read the book."
Mr. Leonard's good friend, Kurt Vonnegut, said, "When I start to read John Leonard, it is as though I, while simply looking for the men's room, blundered into a lecture by the smartest man who ever lived."
Leonard protected, assailed, and embraced his subjects. In 2007, accepting an honorary prize from his peers at the National Book Critics Circle, Mr. Leonard observed that "for almost 50 years, I have received narrative, witness, companionship, sanctuary, shock, and steely strangeness; good advice, bad news, deep chords, hurtful discrepancy, and amazing grace.
"At an average of five books a week . . . I will read 13,000. Then I'm dead. Thirteen thousand in a lifetime, about as many as there are new ones published every month in this country."
Mr. Leonard's own books included "Black Conceit," "This Pen for Hire," and "Lonesome Rangers: Homeless Minds, Promised Lands, Fugitive Cultures."
Raised by a single mother, Mr. Leonard was born in Washington, D.C., and grew up in Washington, New York City, and Long Beach, Calif. He dropped out of Harvard University and then attended the University of California at Berkeley and was taken on by William F. Buckley at the National Review, where other young writers included Garry Wills and Joan Didion.
"At one point, his job was monitoring the left-wing press," Mr. Leonard's stepdaughter said with a laugh.
Although gravely ill near the end, Mr. Leonard did vote Tuesday, for Barack Obama, needing a chair as he waited at his polling place on Manhattan's Upper East Side. "That was very important to him," Nessel said.
Mr. Leonard leaves his second wife, Sue; two children; one stepchild; and three grandchildren. A public memorial is planned for February.



© Copyright 2008 Globe Newspaper Company.