Jon Gib Harder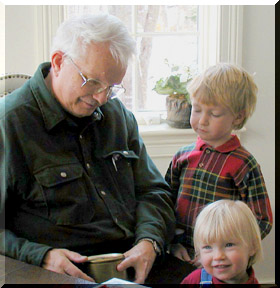 CAPE PORPOISE, MAINE - Jon Harder, 65, of Cape Porpoise, Maine, passed away peacefully on Monday, Jan. 26, 2004, at Southern Maine Medical Center following a brief illness.
He is survived by his sister, Della Borseth of Yakima, Wash.; his brother, Charles Harder of Redwood City, Calif.; as well as his two sons, Erik Mueller-Harder of Cabot, Vt., and Christian Harder of Randolph, Mass.; and six grandchildren.
Born in San Francisco in 1938, he was the son of Jo Somers Harder and Grace Frantzel Asbury Harder. Jon moved to the Seattle, Wash., area as a young boy. He had earned his first Amateur Radio license by 1953 and was a cadet in the Civil Air Patrol. At Roosevelt High School in Seattle, he was consistently on the honor roll; he played organ, sang in the concert choir, was president of the science club, and was honored by the American Legion, before graduating in 1956.
Jon was awarded a Naval Reserve Officer Training Corps scholarship to Harvard University, where he played tuba in the Harvard Band and served as president of both the Spanish Club and the Christian Science Organization, before graduating with an A.B. in Romance Languages and Literatures, magna cum laude, in 1960. While there, he met his wife, Karen, who was secretary to the dean of the Harvard Law School. They were married in 1960 in Cohasset, Mass., and went directly to California for his assignment in the Navy's Pacific Fleet, where he served as Naval Operations Officer and Navigator for three years.
Remaining in the U.S. Naval Reserve, Jon entered the chaplain training program at Boston University School of Theology in 1963, receiving his M.Div. in the History of Christianity and Biblical Languages, magna cum laude, in 1966, becoming accredited as a field ministry supervisor of students in training for the military chaplaincy, and teaching courses in human relations in the Boston University School of Business Administration. As a chaplain, he then transferred to the U.S. Air Force. Stationed in San Antonio, Texas, Clark Air Base, Philippines, and Denver, Colorado, Jon provided direct pastoral assistance to service members and their families and led Protestant services. He was also a member of the American Academy of Religion and the Military Chaplains Association, served as advisor to base commanders and staff agencies, and coordinated and taught courses in race relations, substance abuse prevention, cryptography, and the Military Affiliate Radio System. He also served as religious book editor for The Christian Science Monitor. He received the Air Force Commendation Medal, the Air Force Longevity Service Award, the National Defense Service Medal, the Vietnam Service medal, and the Philippine Republic Presidential Unit Citation Badge.
Jon entered the U.S. Air Force Reserve in 1972, returning with his family to Massachusetts and entering the public practice of Christian Science healing. Beginning in 1972, he worked first as Consultant and then as Assistant Manager of Speech and Editorial Services at The Mother Church, The First Church of Christ, Scientist, in Boston. In 1978, Jon became Manager of Sunday School Activities and Armed Services Activities at The Mother Church and served as its Endorsing Agent for Christian Science chaplains in the Armed Services. Throughout this time, he was also the church's Denominational Representative to the American Bible Society and the ABS's National Advisory Council and he continued his work with the Air Force Reserve (receiving the Armed Forces Reserve Medal), giving sermons, providing counseling, planning and conducting conferences for service members and their families, and presenting courses at the USAF Chaplain School.
From 1983 to 1987, the Harders lived in Salzburg, Austria. Jon continued his healing ministry as a Christian Science Practitioner, as a Chaplain with the U.S. Air Force Reserve (he was promoted to Colonel in 1984), as a Field Assistant to the Clerk of The Mother Church, and as Editorial Consultant to the German and Slavic editions of the broadcast Herald of Christian Science. Traveling extensively with Karen, Jon assisted churches and groups of Christian Scientists, conducting workshops and providing support for individuals in Europe and Asia, including pre-revolutionary Czechoslovakia, Hungary, Poland, and East Germany, as well as Thailand, Taiwan, Hong Kong, South Korea, Japan, Guam, and the mountain provinces of the Philippines.
In 1986, Jon became a member of The Christian Science Board of Lectureship, lecturing fluently on spiritual healing in English, German, and Spanish in 13 countries through 1998. In 1987, he was invited, with the permission of the East German government, to give the first Christian Science lecture authorized in that country since the prohibition and banning of Christian Science in 1951.
Moving with his family to the Providence, R.I., area in 1987, Jon continued to lecture internationally. He was a member of the Christian Science Board of Education's Normal Class in 1988, becoming a Christian Science Teacher. From 1992 to 1999, Jon was Chairman of The Christian Science Board of Lectureship, serving also as President of The Mother Church from 1998 to 1999.
In 1999, the Harders built their home overlooking the Batson River marsh in Cape Porpoise, Maine. Besides his continuing healing ministry, Jon was able to become more active with amateur radio. Continuously licensed as a "ham" radio operator since 1953, Jon had held an "Extra Class" license since 1968. His call signs over the years included WN7UED, W5QKO, AFSQKO, DU1POL, W1GVN, OE2ZDL, and, since 1983, K1US.
Jon served his local branch churches in many capacities, including as a Reader and a Sunday School teacher. Throughout his professional life, he wrote articles and contributed to columns in The Christian Science Journal and Christian Science Sentinel, as well as military, amateur radio, and religious publications. A private family gathering was held in celebration of Jon's life and work.
Donations in his memory may be sent to:
Foundation to Support Christian Science Activities in the Russian-Speaking Field 6507 Arnesen Lane SW Olympia, WA 98512