Read Albright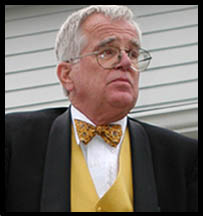 Read Albright: coach, teacher was father figure to many; at 72.



When Read Albright coached his final football game at the Fenn School in Concord in 2002, more than 200 friends and well-wishers, including more than 50 of his former players, were there to honor him.
"I lost a lot more than I won, but I had a great time and I was having so much fun that it was hard to walk away," Mr. Albright reflected in a Globe story that November of his 35 years as head coach of the private school's eighth- and ninth-grade varsity.
Mr. Albright also taught English at the school from 1964 to 2002. The school's football field was named in his honor at a gala retirement party in 2003.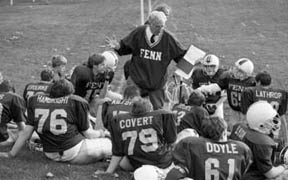 Mr. Albright died of cancer July 16 at his home in Billerica, where he had resided for 20 years. He was 72.
"He always said that there wasn't a life lesson he couldn't teach on the football field and right on top of that list was his favorite play, T dive right, hammering the ball up the middle, which he always related to one of his personal heroes, Teddy Roosevelt, and his motto 'Over, under, or through, but never around!' " said Mr. Albright's son, Bob, of Seabrook, N.H.
"I was his only son, but he was like a second father to so many others and his capacity for reaching out and touching their lives was amazing; and that's his legacy," he said.
Mr. Albright, a former school committee chairman and finance committee member in the town of Westford, also coached basketball and baseball at the Fenn School, where he ran three offices: Development and Annual Giving, Alumni Affairs and Publications, and Yearbook.
"We worked on a lot of political campaigns together and probably lost most of them, but we had a good time," said his close friend Ellen Harde, Westford's moderator. "It was always a joy to work with Read. He was a special man. He didn't take things lightly, but no matter how intense things got, he always saw the bright side and never quit."
An accomplished artist and writer, Mr. Albright painted banners commemorating each Fenn graduation and other special school occasions.
His annual Christmas card, mailed to more than 350 friends and relatives, included events of the previous year that revealed Mr. Albright's keen sense of humor.
Few deeds, from the mundane to the momentous, slipped by without a personal note from Farmers Lane in Billerica, according to his family.
That home, built in 1705, is believed to be the oldest structure in town. Mr. Albright felt it was the perfect setting for his collections of oriental rugs, antiques, lead soldiers, and items purchased at the auctions he loved to attend.
"He was a believer in fair play and sportsmanship," recalled Mr. Albright's cousin Walter Birge of Concord, a former Fenn School headmaster and an assistant football coach on Mr. Albright's staff. "When an opposing team started imitating the pros by shaking their finger after sacking our quarterback and our boys responded by doing the same gesture, Read ran onto the field calling timeout. He told our team 'We don't do this,' and urged them to play harder and actually, the other team stopped shaking their fingers as well.
"Read was also a very fine English teacher who loved the novels 'All Quiet on the Western Front' and 'To Kill a Mockingbird' because they sent a message to his students about standing up in the face of evil even when society was not supporting you," Birge said.
The son of Fuller Albright, a world-renowned medical researcher at Massachusetts General Hospital, and Claire (Birge) Albright, Mr. Albright attended the Park and Dexter Schools in Brookline, Milton Academy (class of 1956), and Harvard University, from which he graduated in 1960 with a bachelor's degree in English. He played varsity football at Milton and was on the crew team at Harvard.
Jack Reardon of Cohasset, Mr. Albright's classmate at Milton and Harvard, said Mr. Albright was "at the top of the list when it came to nice people, thoughtful, caring, and personally encouraging. I felt lucky to have him as a friend."
Mr. Albright met his wife of 49 years, Jo Anne (Pierson), when she was a sophomore at Wellesley College and he was a Harvard junior. They resided in Westford from 1964 to 1990.
"We had much in common, including a love of children and teaching and of nature," said his wife, who retired as director of admissions at the Nashoba Brooks School in Concord in 1996. "He had a family vacation home on Wilmurt Lake in the Adirondack State Park in New York on a mountaintop that has been a wonderful family legacy. It's a hand-hewn chalet. And our family had a cabin on a lake in Raymond, Maine."
The Nashoba Brooks School "was coed through third grade, and many of the boys would go on to the Fenn School for grades 4 to 9, where they met Read. It was a wonderful tie-in," she said.
This year, the Fenn School class of 1951 made Mr. Albright an honorary member and wrote a tribute to him in their 60th anniversary book: "Read best personifies the spirit of the school because of his contributions as an outstanding English teacher and successful football coach. He has been a mentor not only to students but to Fenn graduates. However he is best remembered for his talents in public speaking and his passion for the school."
Serving as a counselor at the South Pond Cabins boys camp in Fitzwilliam, N.H., from 1955 to 1967 inspired in Mr. Albright a passion for working with young people.
He was a general assignment reporter at what is now the Boston Herald in 1961 and 1962, and an English teacher, coach, and dorm master at the Fay School in Southborough prior to his long tenure at Fenn, where he was known for his plaid jackets and bright pants.
Mr. Albright thrived on impromptu skits, speeches, and his annual Fenn Christmas Carol, in which he combined current events and students into the Dickens classic.
He was also a loyal Celtics season ticket holder, former president of the Wilmurt Lake Club, and a member of the Concord Players theater group.
"In his retirement, Read really made it a priority to forge a personal and unique bond with our six grandchildren, and he logged countless miles in his trademark red convertible to be in the first row for Little League All-Star games, spring dance recitals, and so many other activities that he instantly transformed into 'events' by his presence," said Mr. Albrightšs wife, who noted that their youngest daughter, Claire Albright-Hoose of Billerica, named her son for him.
Mr. Albright also leaves another daughter, Charlotte Howard of Saugerties, N.Y., and a brother, Birge of Cambridge.
Marvin Pave - Boston Globe - July 20,2011